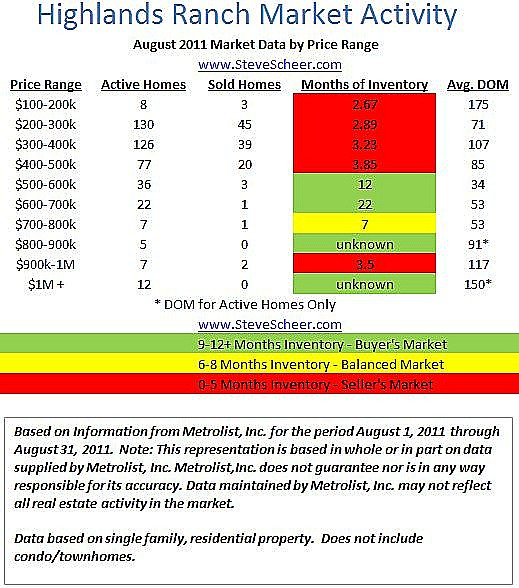 Highlands Ranch real estate inventory remains pretty low again this month. There is less to choose from and fewer buyers making these choices.  Surprisingly, since interest rates remain at all time lows and sellers are mostly pricing very competitively.  Another sign of the times, I think, with concern abouth the ecomonmy in general. The months of inventory for homes priced above $500k have crept up some making the switch to a buyer's market for the most part, with the exception this month for the $900k-$1M market.
So now more than ever, sellers need to stay focused on price, condition and keep in tune with the market. We're winding down the summer season and heading into Fall. There are still plenty of folks that want to purchase their home this year and settle in before the holidays.  So keep competitive and ready.
Buyers can still take advantage of the biggest factor in leveraging your purchasing power, interest rates! Rates impact buying power far more than typical price adjustments.  So with less inventory to pick from, when you find the right home it is a great time to "pull the trigger" and make it happen. The best inventory still sells the fastest, always.
If you're looking to sell or buy in Highlands Ranch or anywhere in the Denver area, contact me I would love to help.