In every home the kitchen remains the room with the most focus.  Have you ever noticed that? Perhaps it is because we all use it nearly every day to prepare meals, grab a snack or start the day off with coffee or tea.  If you entertain, you almost always find the kitchen is the one room that most congregate in. Of course, that is usually where the food and beverage are but folks still hang out in the kitchen just to talk.  It has an easy going atmosphere.
With such big focus on the kitchen, you may be thinking of a remodel, design or spruce up. Cabinets are difficult and expensive to change out, often the best bet is a re facing or paint.  However, the counters are another big focal point and with counters come a lot of choices.  Kitchen counters can totally change the look and feel of the entire home. So what is HOT these days?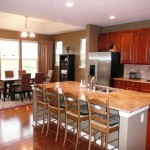 Granite is still a good bet.  High quality, slab granite can really make a statement in the kitchen. However, the days of granite being in only high end, luxury homes is long gone.  Most builders offer granite in even mid level homes.  One trend emerging is the use of engineered quartz.  Quartz can be produced in many color choices, some even very vibrant. Another trend is glass. Glass can be designed and colored to really compliment the look of the kitchen, often lit from below to create a very unique glow for a look and feel much different from the average kitchen.  Marble and other natural stones are also coming back into style.
Kitchen counters can definitely make a huge difference in any home.  Don't forget to compliment the counters with an attractive back splash if the space calls for one.  Back splash is usually a different material that sets off, or compliments the counters. Make sure it is durable enough to do it's intended job which is to protect the walls around the kitchen counters from water and other liquids.
If you're considering a change in your kitchen counters, take a few trips out to the home improvement stores, model homes, designers showcases or just thumb through home magazines for ideas, inspiration and the latest trends. If you may be considering selling your home here in Denver and wonder if this type of an improvement is needed, give me a call or email and I would love to come by to visit and give an honest opinion.